Outdoor Entertainment
An outdoor TV for your outdoor lifestyle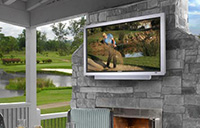 Outdoor TVs are the only time-tested TVs in the world that are specifically designed and built from the ground up, for the outdoor environment. These true all-weather outdoor LCD TVs deliver superior brightness, while resisting the harsh effects of rain, dirt, insects, extreme temperatures, and UV rays. All models are engineered with an extra-bright, non-glare LCD panels to optimize outdoor viewing. Outdoor televisions feature either all-weather ASA outdoor-rated high impact resin or powder coated aluminum exteriors that protects the internal components from the damaging effects of rain, snow, dirt, and insects.
Weather-proof materials are used in every component of Outdoor TVs. Stainless steel and galvanized metal parts are used throughout the TV to resist the corrosive effects of water and humidity. Protective gaskets, stripping, and grommets are specially selected to resist the harmful effects of salt air and sunlight. All models utilize an innovative watertight cable entry system and cable pass-through design that protects the cables and inputs from the elements. Even the powerful built-in 2-way 20-watt speakers are sealed against rain and moisture.
Wireless Outdoor Speakers
The soundtrack of your life shouldn't stop at your back door. Fill your outdoor spaces with dynamic, weather-resistant outdoor loudspeakers.
Outdoor speakers meet or exceed military specifications for environmental endurance; they don't need to be hidden in "sheltered locations." So, get outside, live your life, enjoy yourself. And bring the music you love with you.
You can expand your musical horizons with poolside tunes, a BBQ party on the deck, or even soothing music in your sunroom or a transitional area of your home; anywhere you'd hesitate to place speakers in the past is now ripe for authentic weather-resistant loudspeakers.
With endless options for placement and mounting, under eaves, on decks, or in the yard, our outdoor loudspeakers give you maximum placement flexibility for the ultimate in high-performance sound, all around.